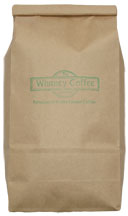 Blends

House Blend a.k.a "The Blend"
This blend is made with our Colombian and French roast. Medium Roasts tend to offer a more complex and varied flavour profile where dark roast roasts tend to be a bit sweeter albeit with a flatter taste profile. This Blend will give you some nuanced flavours of our Colombian with a bit of the sweetness that a darker roast will provide.
French Roast Blend
A secret blend of Central American beans roasted until the oils completely cover the beans.
Characteristics: Smokey flavour and light acidity. Very dark roast.
Espresso Blend
Its classic Italian style flavour is the result of three single origin beans carefully selected and then roasted to coax out a flavour that is greater than the sum of its parts. Pulling an Espresso with this blend will give you a beautiful thick and flecked crema.
Characteristics: Creamy honeyed mouth feel with subtle cocoa flavours. Plenty of Crema to entice your senses.