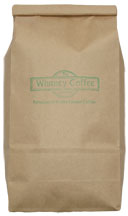 Africa
Kenyan AA French Mission
French missionaries introduced this original bourbon variety in the late 1800s. Grown in volcanic soil at an altitude of 1500 meters yields a remarkable cup.
Characteristics: Winey with dry acidity and full body. Medium roast.


Organic Ethiopian Amaro Gayo

This coffee comes from the region of Amaro and is grown at an altitude of 5200 feet. This high altitude and dry processed coffee yields a remarkably cup of coffee from a remarkable women. Asnakech Thomas is the only female grower/miller/exporter in Ethiopia and her exacting standards are reflected in the cup. Her efforts garner her a 25% premium over fair trade price, which she uses to help fund various social programs.

Characteristics: Hints of Raspberries, orange marmalade and cocoa. Sweet creamy mouth feel and a honey finish.


Tanzanian Peaberry Burka Estate

This coffee comes from the slopes of Mount Kilimanjaro. Tanzanian Peaberry gets its name in part from the shape of the coffee bean. A coffee bean is normally divided in two-halves but these beans are one round bean that resembles a pea.

Characteristics: Bright acidity and floral aromatics. Medium to full body with a rich flavour. Medium to dark roast.