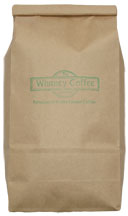 Americas
Colombian Los Naranjos

This coffee comes from the Huila region, municipality of San Agustin, Colombia. It is the result of a 97 small farmers cooperative that produces some 200 bags annually. This fully washed sun-dried coffee is grown between 1600-190 meters.

Characteristics: Bright and complex with rich fruit and coconut notes. Medium roast. Organic
Guatemalan Maya Ixil
Fair Trade certified
This coffee cooperative is situated in the mountains of the tropical region of Ixcan, department of Quiche, Guatemala. This socially responsible coffee is shade grown thereby preserving native fruit and animal species.

Characteristic: Berry Notes and sweet fragrance with a creamy body and pleasant mild aftertaste.


Organic Mexican Nubes de Oro
Fair Trade certified

The Nubes de Oro or 'Clouds of Gold' cooperative consists of aprox 430 members from 21 small communities near the El Triunfo reserve. This coffee is organically ground under a forest canopy of trees and has been recognized and certified by the Smithsonian Institute as bird friendly.
Characteristic: Orangey Citrus with a hint of chocolate and nut tones. Wine toned acidity with a light creamy mouth feel and medium body. Medium roast.